This year we are changing the skirt design on the Lynn McKenzie saddle. These skirts are a bit shorter plus the rounded corners add eye appeal! The trend in saddles seems to be going to a more "Cowboy" look. We believe we have that look. We are finding lots of interest in this new design. The Lynn McKenzie saddle still provides great fit for your horse plus it gives fit and balance for the rider. All this plus they still are good looking saddles. Put the bling on the rider and the balance, form and fit in the saddle. You will look great and in addition preform well in the arena!!
Understanding Saddle Fit - Part 1
Understanding Saddle Fit - Part 2
Understanding Saddle Fit - Part 3
Fitting The Saddle To The Rider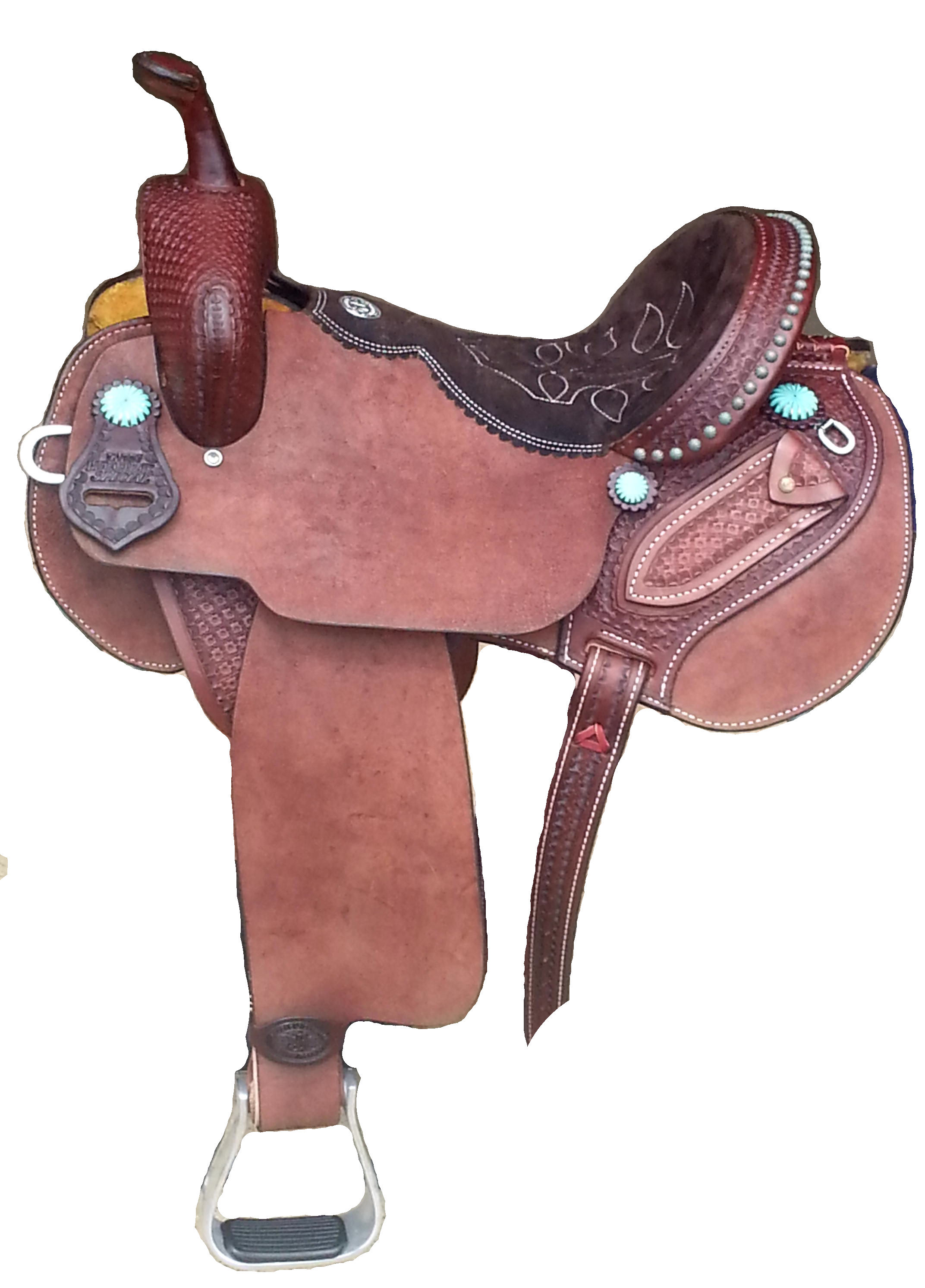 14.5" Lynn McKenzie "Special" In 1/4 Tooled Brown Leather With Cross Dot Floral Tooling, Chocolate Swede Seat, Patina Dots on Cantle, and Turquoise Parachute Conchos. This will wear very well plus have enough color to look great in competition.
Don't Miss These Great Deals!
New Lynn McKenzie Saddle Pad
Our new saddle pad made by Bayou West Co. has GREATLY exceeded our expectations. "This is by far and away the BEST pad I have ever used!!" says Lynn. "I designed it for use with my Lynn McKenzie saddles, but it also works great with other saddles. This will be one of the hottest products this year. The way it form fits to your horse is amazing. Just like a custom made pair of boots. And at this price, you will want one for every horse you ride."
How about this testimony!!
Hi Lynn, It's Sue Stevens from Phoenix. Crystal asked me to send you a little testimonial about the pad I bought from her. It was one of your Bayou West pads. I have had trouble for years trying to keep my saddle from slipping on Jezzie when we would run due to her uneven shoulders. Pad after pad and even saddle after saddle wouldn't work. But when I tried the Bayou West pad at Crystals one day my problems were over. It was a right away difference. Last week I was there and cantered Jezzie around a barrel 10 times both ways. My saddle didn't move for the 1st time in years. It is a wonderful thing to feel safe in the saddle again. Thanks Lynn

This is just one of the great results riders are experiencing with this pad. I have been concerned about how to pad a horse with uneven shoulders (most horses are this way) and this is great news. If you try one, you won't be disappointed. Our biggest problem now is keeping then in stock!!
$240.00 (+ shipping) Order yours now!!
LM Barrel Racing

Equipment

Welcome to lmbarrelracing.com

We are very excited with everything that is happening around here right now. Double J Saddlery continues to lead the way in the saddle industry, with new designs in seat leathers, new conchos constantly being added, and now they have their own saddle tree factory. The Myler Bits "Lynn McKenzie" line of barrel racing bits is going great. Our clinics are still the best!

NEWS FLASH!!!

We are now dealers for the Animal Element line of horse supplements. They are absolutely the best we have ever used. Look for an order page here on our site soon. We are offering FREE SHIPPING on all Animal Element, no matter how big or small the order!! They must be ordered DIRECTLY FROM US, not from the Animal Element web site. We also have several new products we are looking at for the near future. Watch for them coming soon.

Have you seen the NEW SKIRT DESIGN on the Lynn McKenzie saddles?
(See the saddle at left)

Also ask Lynn about the NEW COMFORT CANTLE!


Clinic Schedule

NEW! You can now pay for your clinic by !

2018

May 5 & 6 - Bellevue, MI

May 12 & 13 - Powell, WY

Sep. 8 & 9 - Yatkinville, NC (By inviation only)

Sep. 15 & 1 - Lubbock, TX

You may view and print out our Clinic Schedule & Questionnaire. (Use the "Back" button on your browser to return to this page.) We have several Spring, Summer, & Fall 2014 dates available for clinics but they are filling up fast. Contact Lynn (806-290-5352) for more information and to be sure you get the dates you want.

We also are finding a large amount of interest in "1 Day Clinics". Contact Lynn to get details on having one where you are.

Lynn's been to the tree factory again. We now have

4

different trees. This gives us the ability to fit a saddle to nearly any horse. Watch the "Nueva" saddle fit videos on our facebook "saddle page" Here (Be sure to use the "Back" link on you browser to come back to Here)

We carry all 4 trees with us as we travel. Get

your

horse fitted soon!!
What's New?




Hot Off The Press!!

Barrel Racing -
The Lynn McKenzie Way

A DVD series on the Lynn McKenzie system of barrel racing. This is the teaching you have been asking for. Great for learning the Lynn McKenzie Way or to reinforce what you learned at a clinic. A "clinic in a box".
$40.00

More information




Lynn McKenzie Saddles by Double J Saddlery
Click on image

Lynn McKenzie Bits

by

Myler Bits

Click on image
Saddle Pads
by
Bayou
West

Click on image

Animal Element Nutrition





Click on image





(Shopping cart will be available soon.)

Saddle Special!!

Hot Saddle Specials!

With every saddle purchase receive your choice of:
1. a FREE "Barrel Racing, The Lynn McKenzie Way" DVD set!
or
2. A 25% discount on a matching headstall or breast collar!!

NEW!! WOW!!


Teaching Videos

"Barrel Racing -

The Lynn McKenzie Way".

A three DVD series that goes into great detail of our method of Barrel Racing, things we have learned and developed over the past 37 YEARS of teaching and competing! You won't want to miss this! Get your set now!

"Barrel Racing -

The 6 Barrel Exercise"

The next addition to our video library. Every trainer needs this teaching. How to develop bend and flex in your horses.

More titles coming soon!

Call for more information.

Contact Info:
LM Barrel Racing
Lynn & Murray McKenzie
14012 CR 472
Lindale, TX 75771

806-290-5352 (Lynn)
903-920-7200 (Murray)
(903) 881-7002 (Home)

"He Paid Your Fees" Clinics

One of our former students and now clinic sponsor from North Carolina, Annette Jenkins, three years ago developed an EXCITING NEW format for a clinic. All the students that come to the clinic have their clinic fees totally sponsored. The students come by invitation and once they have come they are not eligible for another sponsored clinic. This enables more young people to participate. There have been over 150 in the past 3 years. They have been a GREAT SUCCESS and we are having them again. The past 2 years we were also able to go to South Carolina. This year will just be having the two in North Carolina. Please click HERE to see the flyer. We are having people from all over wanting to be a part of this exciting move of God!

Pray and ask God about you being a part!