The saddles you see pictured here are some of the designs we have found which are popular with our customers. Anything you see on one saddle that you would like on another saddle can be done, or we can design you a saddle from scratch. We do not show prices because of the many options available, each saddle has to be priced out separately.
Our basic saddle starts at about $2250. These saddles retain their value exceptionally well, making them an investment for years to come. If you want to get really fancy with lots of color, ostrich seats, bling bling, etc, the prices can go upwards of $4000. But there are many things that can be done and stay under $2500.
From time to time we have used Lynn McKenzie Double J saddles available, but the demand for them is so great, they don't last long. So for your new (or used) Lynn McKenzie Special, call (806) 290-5352 or email: saddles@lmbarrelracing.com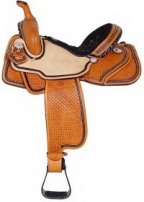 New! 3/4 Tooled leather with a black suede seat. Black painted double border with small stainless steel dots. Black rawhide, silver laced gullet and cantle and leather horn. The longer you look at it, the more you like it!!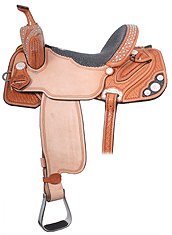 Wow! This Lynn McKenzie Barrel Racer is crafted from Natural leather with a Southwest Diamond tooling pattern. Black Sparkly Stingray for the seat and corner inlay. It is complete with a three row crystals/dot cantle, a New Western Yolk front and Massive Crystal Wheel Conchos!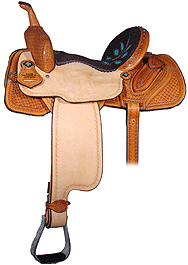 1/2 Arrow Basketweave tooled with Barbwire Border on All Parts. Chocolate Floral Suede with Turquoise Suede inlays. A little extra touch with our Antique Engraved dots across the cantle and finished with our Vintage Turquoise Scallop Conchos. Classic Look - For That Classic Lady!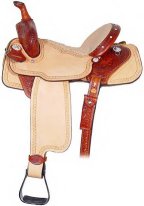 New! Chestnut and natural leathers with I-beam borders and a Oryx ostrich seat. Engraved silver dots highlight a tooled leather cantle. Comes with a leather horn. Different, but we really like the look it has.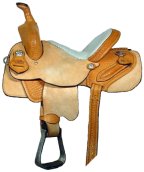 Lynn McKenzie Kids saddle. Built on a 13" tree with fenders custom made to your specifications. Change to longer fenders as the child grows. This one is our Grandson's saddle and has a Robin egg blue ostrich seat and leather horn. We can have it built any way you want it.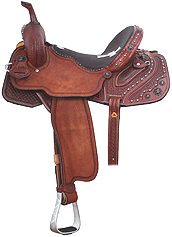 New!! Chestnut leather Half Breed with star pattern. Leather horn and a black gothic cross stingray seat with antique berry cross conchos and antique silver nail heads on gullet and cantle. 3 conchos on tooled corners on the skirts.